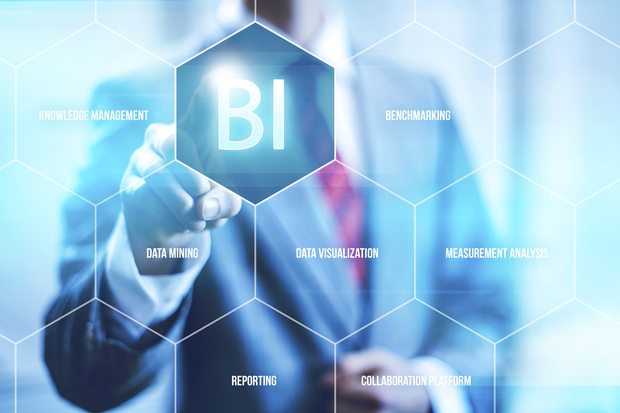 In brief (and ridiculously simplified), "Business Intelligence (BI)" is a technology which allows users to transform raw data into meaningful information which could then serve to advance a business' end-goal or mission.
The term "Business Intelligence" was invented by Howard Dresner in 1989. Later in 1992, Dresner had joined "Gartner Inc," an analyst firm, where he built a BI practice and created and chaired the annual "Gartner Business Intelligence Summit." In the fall of 2005, Dresner left Gartner to join Santa Clara, Calif.-based Hyperion, a BI and performance management vendor, as its chief strategy officer.
In 2006, SearchDataManagement.com interviewed Dresner at the Gartner BI Summit in Chicago. Dresner makes the following points:

There is a difference between "Analytics" and "BI." Dresner sees analytics as "applied business intelligence." BI are the tools which provide analysis.
Dresner's vision was to provide what he calls "information democracy:" Everybody becomes an integral part of the "analysis" process receiving the same insight and building on it.
Technology has advanced, BI has become scalable to the entire organization, but many of these organizations are still very fragmented. "BI is deployed functionally or departmentally." IT should not only be the IT Dept. driving BI; the effort should include everyone's perspective creating an on-going and honest self-assessment:

Where are we technologically?
Where are we culturally?
Where are we politically and organizationally?
And where do we want to be and what will be the steps to getting there?

Dresner explains how they are too many tools out there re-presening data in different forms. We need to standardize and consolidate.
Please see more of the interview here: http://searchbusinessanalytics.techtarget.com/news/1507321/BIs-founding-father-speaks-QA-with-Howard-Dresner
I think it would be interesting to know that for the last 8 years, Microsoft has been positioned as a Leader in the Gartner Magic Quadrant for Business Intelligence and Analytics Platforms.  Their BI product line has included "many initiatives to measure, manage, and improve on the performance of individuals, processes, teams, and business units." Microsoft delivers BI tools which "can give every employee access to the data required to make informed decisions." The definition of BI has extended to include information flow between three main categories:
So what's next? Well, it's Microsoft SQL 2016. Here is a summary on what's coming: (Please do read the details for yourself as I believe it's well worth it!) 
Standardize reporting content types across Microsoft on-premises, cloud and hybrid systems.


Paginated reports
Interactive reports.
Mobile repors.
Analytical reports and charts.

SSRS or Reporting services adds support for mobile reports.
Publish Power BI Desktop Reports on-premises

Power BI Desktop is a data discovery and interactive reporting tool allowing business analysts to connect, prepare, and visually explore data across a freeform canvas. It combines the strengths of Power Query to connect to a vast spectrum of data sources and easily shape data, Power Pivot for rich data blending and modeling, and next generation Power View to intuitively perform visual analytics and author compelling reports.

Unified Moile BI experience


Whether using SQL Server Reporting Services on-premises, Power BI in the cloud, or both as your report delivery solution, we'll have a single mobile application (for each of Windows, iOS and Android) for consumption of all report types

Symmetry across on-preises and cloud
Please read more of this article here: https://blogs.technet.microsoft.com/dataplatforminsider/2015/10/29/microsoft-business-intelligence-our-reporting-roadmap/
Videos:
Videos